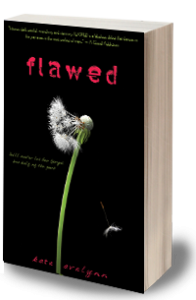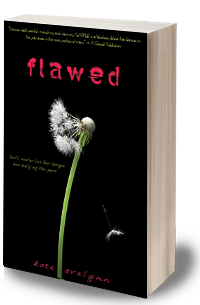 Happy Black Friday, everyone! As promised, the ebook of FLAWED is live on Amazon and Barnes & Noble.
I'm so completely in awe of the response to the book so far. Thank you to all the bloggers who devoured the ARCs immediately and wrote what have to be the most fantastic emails and reviews ever!
Want a taste of the book? My publisher has posted an excerpt HERE.
What people are saying…
"Intense, dark, painful, wrenching and stunning, FLAWED is a fabulous debut that dances in the gray areas in the most perfect of ways. This book is one that will leave readers so completely twisted, and utterly drained emotionally by the time the gamut is over."
– A Good Addition
"This book shattered me into a million pieces. It's beautiful and intense and earth shattering. Flawed takes love and twists it into something deadly."
– Shortie Says
"Beautiful and devastating all wrapped in one heart shattering, soul moving book. Flawed broke me, crushed me whole and devoured my every being. Kate Avelynn created a book so powerful, so gut wrenching.. nothing will ever be the same."
– Words, Pages, and Books
Flawed was one of the best debuts I've read, and everyone who reads this book will fall in love with the chemistry between the characters and the intense plot."
– Stuck in YA Books
"An extremely powerful story that's impossible to classify, Flawed is a book that is compulsively readable despite its depth. There are some books you know you'll never forget – for me, this is one of them."
– USA TODAY bestselling author Cari Quinn
"Gorgeously written, achingly bittersweet, FLAWED addresses the deeply complex nature of abuse and its heartbreaking effects on a family."
– Christa Desir, author of FAULT LINE (Simon Pulse, 2013)
Darkly moving, expertly written, FLAWED grabs you by the heart from the first page and doesn't let go.
– New York Times bestselling author Lori Wilde